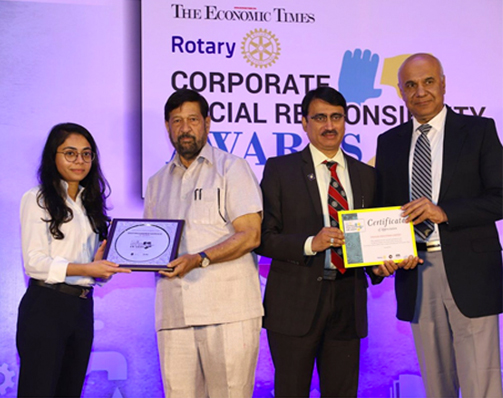 WORDS OF
APPRECIATION
Over the years, we have collaborated with various partners, corporations, NGOs and individuals. Here, we have highlighted a few of their statements regarding their experience of working with us.
Mr. Amitabh Shah – Founder & CIO, Yuva Unstoppable
Mr. Amitabh Shah, Founder and Chief Information Officer, Yuva Unstoppable talks about our long-standing partnership and journey of spreading hope and happiness amongst rural women, children and many other beneficiaries.
Ms. Simoes – World Wisdom School
Ms. Simoes, World Wisdom School talks about our long term association in making quality education accessible! As we celebrate our 25th anniversary, we're grateful to recieve words of encouragement from our partners & well-wishers. Here's to many more years of creating an impact!
Nighat Shafi
Dr. Nigat Shafi, HELP Foundation, J&K shares her well-wishes for MMF on their 25th anniversary. Over the past few years, we have been able to collaboratively provide relief during the COVID-19 pandemic and provide vocational training for widowed women in Jammu and Kashmir.
Dr Sunil Lohade
Dr. Sunil Lohade, Hemophilia Society, Pune, shares a few words of gratitude for MMF's support in the spectrum of healthcare.
Mr. Lalit Kumar
Mr. Lalit Kumar, CITTA, Rajasthan, congratulates Team MMF on completing 25 years of service
Dr Nita Munshi
Since 2022 we have worked with Dr. Nita Munshi, President, Thalassemic Society of Pune, to bring awareness amongst youth on the causes and methods to prevent Thalassemia. On our 25th anniversary, Dr. Munshi provides her best wishes to Mukul Madhav Foundation.
Shri Iqbal Chagla
Shri Iqbal Chagla sheds light on the importance of giving and Mukul Madhav Foundation's efforts to give back to the society over the last 25 years.
Professor Kulkarni
Professor Kulkarni, Indian Red Cross Society, congratulates us on completing 25 years of Mukul Madhav Foundation and talks about our journey of workin towards accessible healthcare.
Payal Manan
Mrs. Payal Manan Rajpal, Founder, Robotex India, speaks about her experience of working with Mukul Madhav Foundation to bring STEM and robotics education to rural India.
Udayan Trust
A small surprise from Udayan Trust on the occasion of Mukul Madhav Foundation's 25th year anniversary