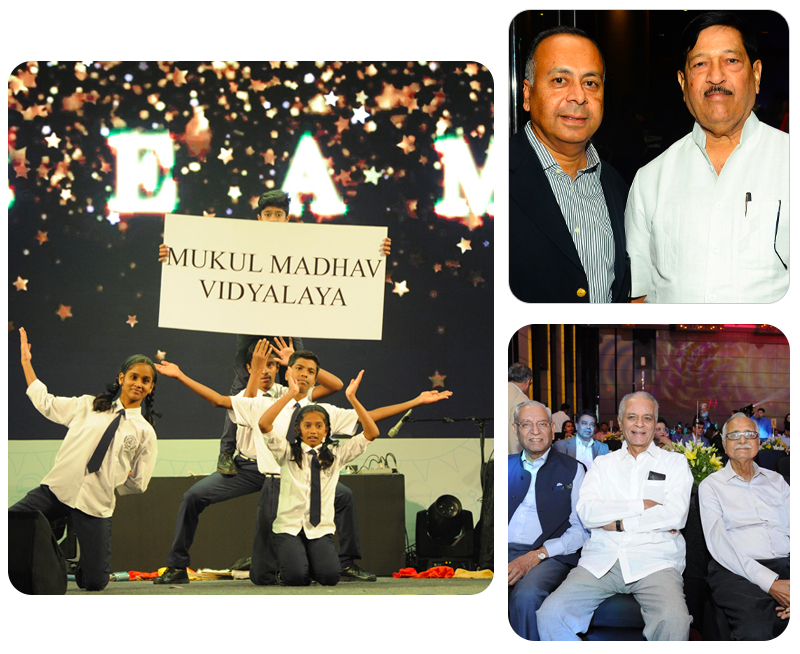 A CELEBRATION OF GENEROSITY
Mukul Madhav Foundation has been a champion for various causes over the years, seeing itself as a bridge to connect people across social and economic strata. Using our privilege of birth, income and social standing, as a means to level the playing field for those less privileged. Reaching out to our connections in a well-heeled society, to make earnest appeals on behalf of the barefooted. Taking our self-declared title of "Professional Beggar" very seriously, we look to open people's eyes to the impact one fancy meal can have on the life and health of another human being.
We believe that every gap in the system is an opportunity to make a difference. And there will never be a surfeit of these opportunities. Every time we reach out to a friend, family or corporate honcho, we see it as sharing the blessings and joy we receive from our work at Mukul Madhav Foundation.
Adding scale and momentum to this commitment, we have organised five major fundraising events over the years. Raising awareness and funds for various causes, these sit down gala dinners, and one online event, has raised almost 12 crores over five years.
The events could only raise the funds they did, thanks to the generous and wholehearted support of our venue partners, JW Marriott, Pune. Each and every piece of logistics were taken care of by a kind sponsor, right from travel and stay, to food and drinks. The entertainment for each event was gracefully essayed by the lovely kids from our various organisations, trained by top professionals, pro bono. Furthermore, the collectibles put on auction were donated by various well-wishers like Manchester United Football Club, MS Dhoni and a renowned jeweller. This overwhelming support ensured that every single penny we raised through tickets and the auctions went straight into our work, and not into organising the event itself. Same for the Facebook Live fundraiser event in the middle of the lockdown in September 2020.
The highlight of these fundraisers was not just the impeccable organization and resource management. It was the long term ripple effects these occasions created. Long after the event was done, and the funds galvanised, the attendees continued to be associated with us and support our work. We saw an increased sensitisation and awareness towards the causes we showcased at these events, and for the overall work, we were undertaking.
The events themselves saw heart-warming performances by our children and beneficiaries from across the institutions we empower. These were trained by professionals, notable amongst them being the selfless and endearing training lovingly offered by Piyush Malhotra and his troupe PMDM. He visited each institution to meet, motivate and give them the training and confidence to dance on stage. Piyush Uncle, as the children called him, managed to bring out the most endearing dance performance from our kids. Rekha Chaudary and her troupe, besides performing, also trained our kids for a performance. Other notable acts included Cyrus Broacha, Vir Das, Kailash Kher and his band Kailasa, DJ Chetas, Kanika Kapoor, Ryan Sadri, Prem Joshua, flamenco dancing by Dina Ginwalla, fusion dancing by Sandip Soparrkar, sand art by Rahul Arya, and other scintillating artists. Comperes included Nauheed Cyrusi, Anusha Dandekar and Sophie Choudhary.
Besides the performances, these events were well attended by a number of top celebrities including MS Dhoni, Hardik Pandya, Lara Dutta, Soha Ali Khan, and Rajeev Kapoor. Noted dignitaries from Pune also attended like Guardian Minister of Pune, the late Girish Bapat, and Mayor Mukta tai Tilak, Treasurer BJP, Maharashtra.
The corporate world too came out in full force to support these fundraiser events, including Shaina NC, Dr Cyrus Poonawalla, GP Hinduja, AP Hinduja, PP Hinduja, PP Chhabria, Avinash Bhosle of ABIL, Sanjiv Bajaj of Bajaj Finserv, Adar and Natasha Poonawalla, Yohan and Michelle Poonawalla, Amruta Devendra Fadnavis, a social activist, Commissioner of Police, Pune, K Venkatesham, Padmabhushan – Dr SB Mujumdar, Founder and President of Symbiosis Society, and Padmavibhushan – Dr KH Sancheti, Founder of Sancheti Institute of Orthopedics. Patrons and sponsors included Jiten Doshi of ENAM Asset Management, Rajnikant Jaitha of Jivraj Baloo Trust, SP Lohia of Indorama, Tarang Jain of Varroc, Romesh Sobti of IndusInd Bank, Pradeep Mafatlal of Stanrose Mafatlal, Rochana Jain of Suraj Devi Charitable Trust, Pramit Jhaveri of Citi Bank, Vishal Agarwal of Bavaria Motor Works (BMW), and Hinduja Group Companies: Gulf Oil, Hinduja Leyland Finance and Ashok Leyland.
The Facebook Live discussion, in association with YUVA UNstoppable, to raise funds during the pandemic was helmed by an eminent panel of celebrities – Lord Jeffrey Archer, Gopichand Parmanand Hinduja, Prakash Chhabria, Pradip Dhamecha, Ganesh Betanabhatia, Lord Rami Ranger, Sangram Singh, JD Majethia, Vijay Patel, Dilip Piramal, and Lord Rumi Verjee. This saw a flood of donations that continued to flow in from generous donors long after the event.
Another initiative to raise funds was through a Charity Pub Quiz organised by the students and Alumni of Richmond University, London, on October 14 th , 2015, and a wine tasting fundraiser event on November 4 th , 2015. The team, under the guidance of Prof. Ray Hilditch (Director of Alumni & International Relations and Ex-Professor of Business and Economics, Richmond College, London), worked tirelessly and successfully to raise £2,230.

Glimpses from
our fundraisers
Snapshots from our fundraisers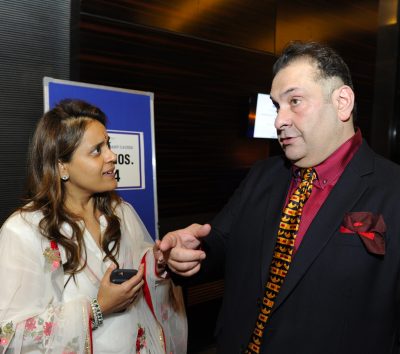 Late actor Rajeev Kapoor in conversation with Ritu Prakash Chhabria, Co-Founder & Managing Trustee, Mukul Madhav Foundation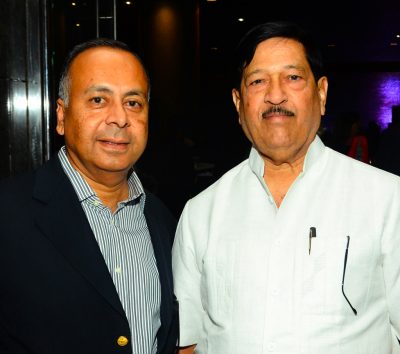 Prakash P Chhabria, Executive Chairman of Finolex Industries, with Late Girish Bapat, Guardian Minister of Pune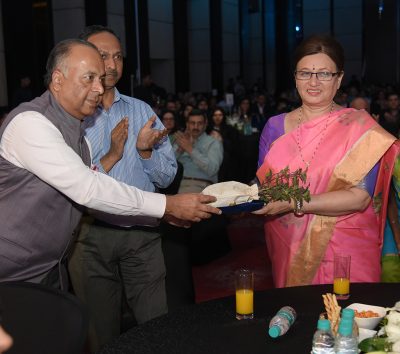 Mukta Tai Tilak, Late Mayor of Pune, felicitated by Prakash P Chhabria, Executive Chairman of Finolex Industries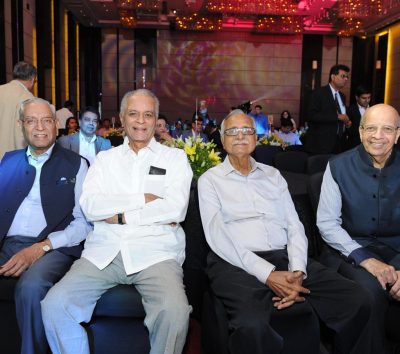 (From L to R) Late SK Jain, industrialist; Padmashree SB Majumdar, Founder & Chairman, Symbiosis Society; Late Prahlad P Chhabria, Founder of the Finolex Group; and Dr KH Sancheti, Founder of Sancheti Hospital