Give with DignityTM
At one moment, the nation was filled with aspirations and ambitions, and in the next moment, the future was filled with gloom and uncertainties. In March 2020, the COVID-19 pandemic caught the country off-guard. MMF gauged the situation and proactively prepared for the consequences long before the lockdown was imposed.
We started our relief work early in February 2020, and as it progressed, it soon gave birth to Give with Dignity™ in September 2020 – a unique initiative that sought to bring a spark of hope during the upcoming festive season of Navaratra, Dussehra and Diwali.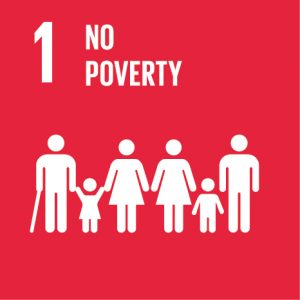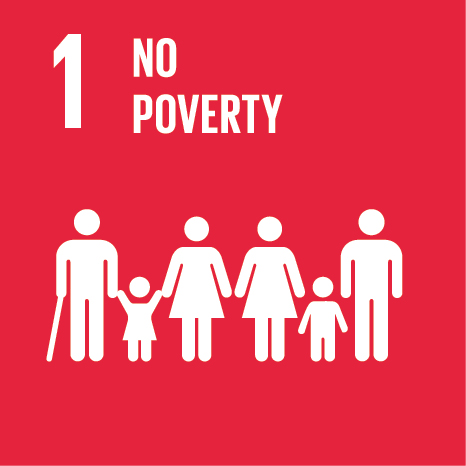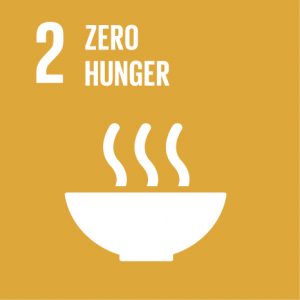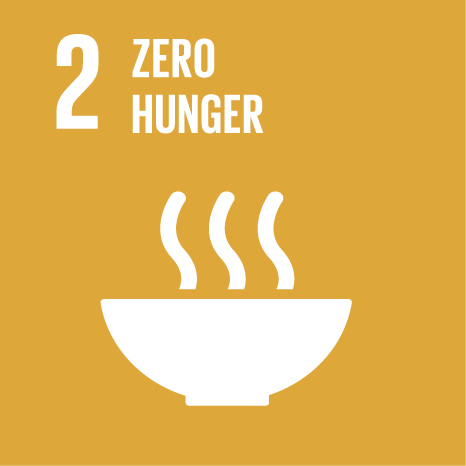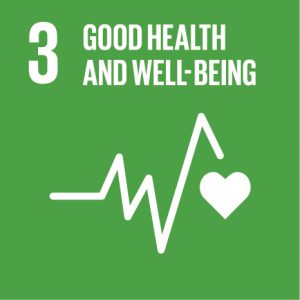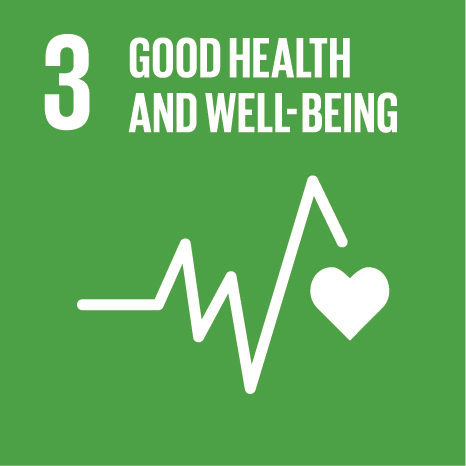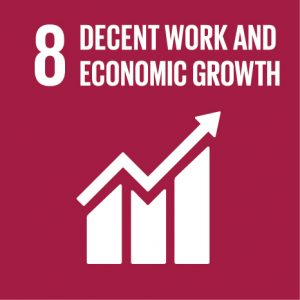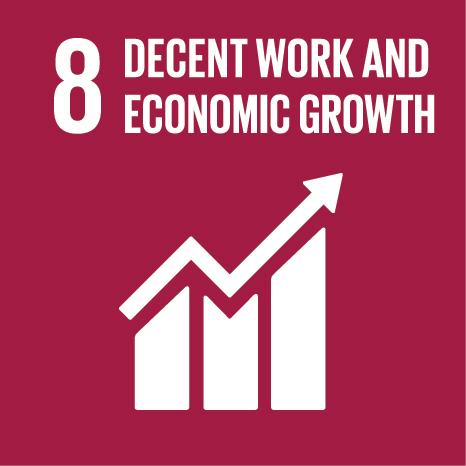 Give with Dignity™ followed a similar philosophy to our other COVID relief efforts.
Revive to Survive: We wanted to revive self-help groups and small and medium-sized businesses to help them survive the lockdowns. We supported them by sourcing dry rations, hygiene kits and PPE gear like masks, gloves and other essentials, and cloth bags and sacks required to pack them.
Source Local, Give Local: MMF distributed all these goods within 15-20 km of the source to support local communities and minimise the need for transport, which was severely limited during lockdowns.
Distributed 1000 ration kits and blankets at the Masar Village in Gujarat
(Backed by Finolex Industries)
The Masar Gram Panchayat had put out a request for support of 1000 blankets for underprivileged villagers. These villagers live in huts and find it difficult to keep warm during the biting cold winters.
Responding to their appeal, we decided to not just provide them with 1000 blankets, but also added 1000 ration kits. Each ration kit included 3kgs of rice, 3kgs of wheat flour, 1ltr edible oil, 500g toor dal, and 250g tea powder.
These kits were distributed to the villagers on the 18th of December 2021. The village Sarpanch expressed his gratitude to the MMF team for its support and concern for the people of Masar.
Give with Dignity™ 2020
To fructify our ambitious plan to give people a reason to celebrate, we created dignity and nutritional kits that included dry rations for a family of 4 people for 3 weeks, hygiene essentials like soap, toothbrushes, masks and sanitisers and even festival decorations of diyas. The rations included poha (rice flakes), suji (semolina), tea and sugar for breakfast, and rice, wheat flour, pulses, oil, salt and spices for the other meals so that families could remain safely at home. We customised the ration kits according to regional diets and sensitivities. For instance, in Gujarat, we included lapsi (broken wheat), in some parts of south India, white sugar was replaced with country jaggery.
Identifying beneficiaries with the help of local authorities, NGOs, concerned citizens, and other partners from various fraternities, we distributed these kits amongst various marginalised and vulnerable sections of society like the visually impaired, hearing impaired, the differently-abled, school students, transgender people, HIV affected families, backstage artists, folk artists, slum dwellers, boatsmen, daily wage workers, coal miners, rag pickers, farm labour, housemaids, autorickshaw drivers, widows and women-headed families.
A total of 3 lakh individuals and 120 self-help groups received our support across 24 states of India.
Revive to Survive
To make this initiative more potent at every level, we sourced every single item in these kits from farmers, small businesses, self-help groups, and local producers, thus giving them business and reason to celebrate too. We also distributed them to local communities to minimise the need for transport. This initiative also helped revive self-help groups, printing and packaging agencies, and courier companies, through increased income and employment opportunities, infusing life into entire supply chains. Creating a circle of dignity, hope and happiness.
Success Stories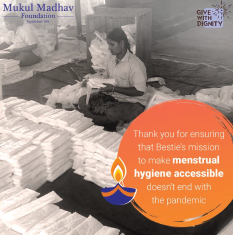 In a country where 36 percent women struggle with lack of access to basic menstrual hygiene…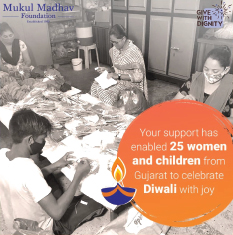 What happens when 25 women and children from Gujarat come together to help each other…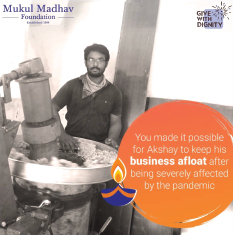 Ariharan Guruswamy, a resident of Madurai city, Tamil Nadu and an engineer by profession…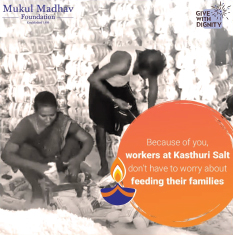 The past few months have completely crushed the lives of millions across the country….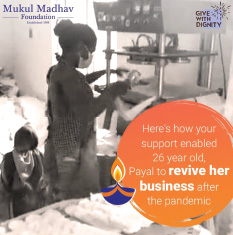 At a young age of only 20, Payal's life turned upside down as her biggest support system…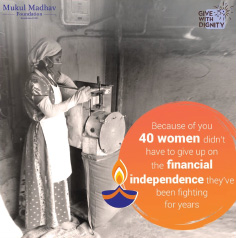 The 40 tribal women from Shakti have been an inspiration for the entire district…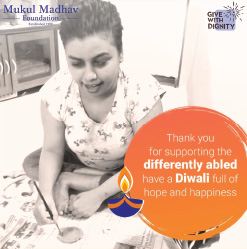 Diwali has always been very special for the differently abled students at ADAPT, Mumbai…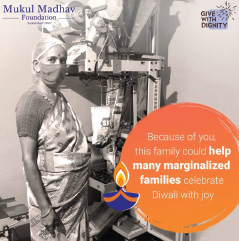 Much like many small businesses, this mother and her sons were also forced to shut down…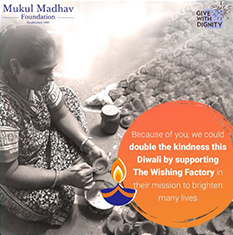 The last few months' lockdown has viciously shrouded small businesses and marginalized…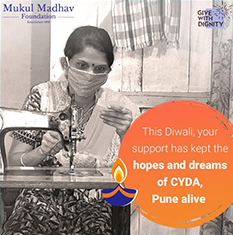 Skill development, economic growth and entrepreneurship – the keys to a brighter future….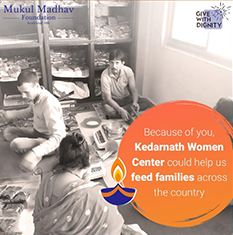 The ongoing pandemic has left many people in a state of complete despair and hopelessness…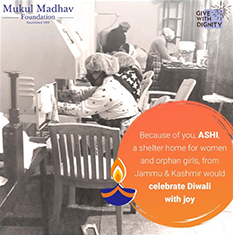 Suffering of thousands has been aggravated by the lockdown. However, it is the women…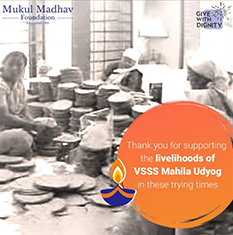 Innumerable jobs lost, livelihoods destroyed, dreams crushed and aspirations crumbled…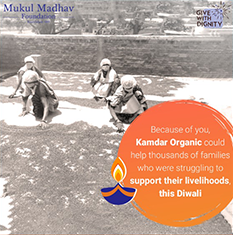 Thousands across the country lost their livelihoods due to the pandemic and the countrywide…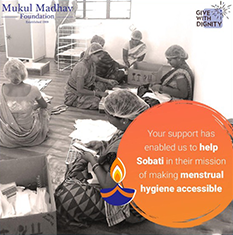 The pandemic had locked down not only the nation but also the hygiene and wellness…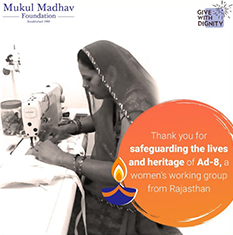 The hard earned financial empowerment of many women artisans risked a grim demise…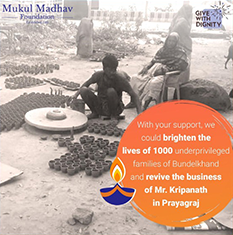 Diwali is all about celebrating the victory of light over darkness. However, darkness has engulfed the lives…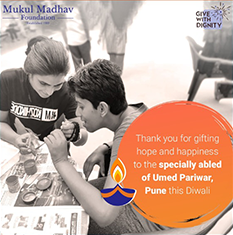 This Diwali, many are struggling to keep their hopes high due to the impact of the lockdown…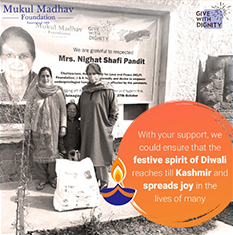 For Kashmir, the pandemic has been a lot harder. After struggling with more than 18 months…
Partners and Collaborators
Give with DignityTM inspired collaborations and compassion. We saw multiple efforts and participation for this initiative ranging from local authorities, individuals, corporates, financial institutions, multinationals and celebrities.
Prominent brands like Cavin Care, Marico, Sobati, and Nestle contributed to the Diwali Happiness kits.
Other corporate partners that helped MSMEs fund the Give with Dignity™ initiative included Finolex Industries, Indorama, IndusInd, State Bank of India, Magarpatta City, Hinduja Foundation, Global Group, Tech Mahindra, Ashok Leyland, Gulf Oil, and Polybond.
Many small donors contributed too. Non-monetary support was received from various NGOs across India while institutions, volunteers, and like-minded friends and donors also joined to make this initiative a success. ​​
Kailash Kher and Salim Suleiman, both renowned Bollywood musicians and singers, were instrumental in introducing us to folk singers and artists who needed support in Rajasthan. They were, in turn, supported with ration kits through Give with Dignity™.
Under Give with DignityTM efforts, Vikas Khanna, Michelin-Star chef, was supported for his initiative, Feed India. Support was provided to marginalised communities in Mumbai during Ramadan; and widows, boatsmen, transgender people, people with leprosy and other physically challenged individuals in Varanasi. During the Ganesh festival, his efforts were supported by Mukul Madhav Foundation, Finolex Industries and Hinduja Foundation.
JD Majethia, director and actor, connected us to backstage artists who were supported with ration kits through Give with Dignity™.
Stories of hope
We witnessed firsthand the joy a little thoughtfulness can spark on our distribution rounds. We heard stories of perseverance and courage. We saw individuals with little means sharing their meagre resources and supporting each other. Everybody wanted to play a part and contribute in some way or another. In fact, in one of the communities we reached out to, the women volunteered to share the kits among themselves to save us trouble in distribution. This heartening generosity also came to our aid during the lockdown when only essential services were allowed to move. The owner of a dairy service offered us his milk delivery van to distribute our kits.
These incidents strengthened our resolve to continue the Give with Dignity™ campaign.
The Give with Dignity™ campaign was inaugurated across the country on the following dates:
17th October 2020:
The campaign was inaugurated and flagged off for its nationwide rollout by Her Excellency Smt Anandiben Patel, Governor of UP
18th October 2020:
Hon'ble Chief Minister of Gujarat, Shri Vijay Ramniklal Rupani
25th October 2020:
Srijan Pal Singh, Founder, Kalam Centre, in Delhi
30th October 2020:
Mrs Nighat Shafi Pandit, Founder and Chairperson of HELP Foundation in Srinagar
8th November 2020:
Chief Minister of Maharashtra, Shri Uddhav Ji Thackeray, in Mumbai
9th November 2020:
State Minister for Finance, Shri Anurag Thakur in Hamirpur, Himachal Pradesh, and Shri. Girish Bapat, Member of Parliament, in Pune
11th November 2020:
Chief Minister of Rajasthan, Shri Ashokji Gehlot, flagged the campaign off from his residence in Jaipur
12th of November 2020:
In Jammu by the the RSS group
In Jammu by the Tagore Foundation
In Allahabad (UP) at the hands of Shri Rakesh Shukla of Ram Radhika Foundation
In Baramati, Maharashtra, at the Hands of Ms Devyani Pawar, Entrepreneur, Impact Officer at Global Shapers Community Baramati Hub. Many more inaugurations followed across the country with local authorities, NGOs and institutional heads.
Give With Dignity™ 2021
In 2021, the Foundation continued Give with Dignity by approaching Finolex Industries once again and raised funds through friends, families and a small fundraiser. Pledged to support over 11,000 families across 13 states. Ration kits were distributed between 22 October 2021 till December 2021. Once again, Dignity Kits comprising of produces from 12 self-help groups (SHG) and micro, small and medium enterprises (MSME), were distributed during the festive season of Dussehra and Diwali.