Bottles of Drinking Water
Affected Families supported
Households supported with roofing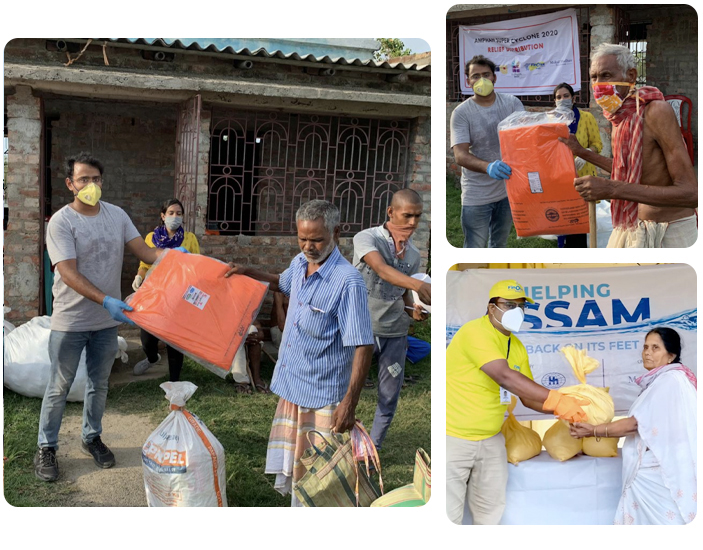 A RAY OF HOPE IN A NATURAL DISASTER
Natural disasters bring with them manifold miseries. Along with the destruction they bring, they also drag along financial hardships, hunger and disease. Whatever work we have done with communities over the years, gets wiped out, or setback, literally overnight, by calamities like cyclones, floods, earthquakes, and in recent times, the Covid-19 pandemic.
At Mukul Madhav Foundation, we have always looked to step in early. As soon as we get news of a disaster or calamity, we set the wheels into motion. Reaching out to local on-ground organisations, and reaching back to corporates and individuals for funds and resources. We recognise the need for immediate relief efforts and are always prepared to expedite the disbursement of support in collaboration with our on-ground partners. With the knowledge that timely intervention can not only limit the damage caused but also reverse it where possible.
Over the years, we have provided extensive relief to the victims of the earthquake in Nepal, Cyclone Phani, Cyclone Amphan, Cyclone Nisarga, Cyclone Yaas and the floods in Kerala, Assam and Maharashtra. Our intentions and efforts were really put to the test with the Covid-19 pandemic. We stretched ourselves to meet the challenge. The results and gratitude received were overwhelming.
For detailed reports on specific initiatives, email us at reports@mmpc.in

Maharashtra Floods (2021)
Maharashtra Floods (2019)