Cancer Patients supported
Paediatric Cardiac Surgeries
Healthcare Institutions supported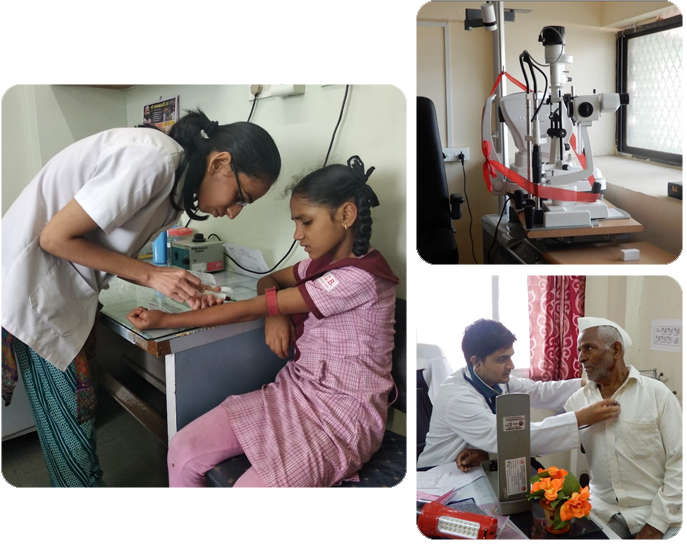 HEALTH IS TRULY WEALTH
Medical science has progressed by leaps and bounds over the last few decades, and so has life expectancy. But this progress has not been universal. In parts of the world and India, there are vulnerable individuals and communities who have been left far behind by these new advances. Their income or geography, mostly both, restrict their access to even basic healthcare. There are people who dread disease and illness, not because it is incurable or terminal, but due to the burden it will put on their finances. Even if they are cured, the illness will leave their lives devastated. Tough choices are usually made in families – either they rely on affordable local remedies to be cured and maybe live through the illness. Or get a new lease on life through expensive cures, and henceforth have a poor quality of life for the entire family. Along with government organisations and NGOs, we at Mukul Madhav Foundation are working hard so that these people don't have to make these tough choices.
We have been working on-ground for the last two decades to reverse healthcare neglect in any small way we can. With a focused agenda of updating, upgrading and uplifting infrastructure that has deteriorated with neglect.
Whether it is facilitating advanced medical treatments for individuals, installing state-of-the-art medical equipment in government hospitals or contributing to the salaries of top technicians, doctors, specialists and surgeons, we have actively sought to impact health starting right at the roots. Extending our empathy beyond just the medical, we have created play areas and reading corners in children's wards, adding aesthetic touches to their surroundings. We have supported the well-being of the relatives of patients with waiting rooms, water and sanitation facilities, and food. We have gone to great lengths to put in place small things that bring big comfort. Doing the same for doctors, nurses and hospital staff – creating staff rooms with thoughtful facilities that ensure that the ones that care for others, are cared for too.
We strive to proactively cover reproductive, maternal, newborn, child and adolescent health; communicable and non-communicable diseases; universal health coverage; and access for all to safe, effective, quality and affordable medicines and vaccines.
For detailed reports on specific initiatives, email us at reports@mmpc.in

Cancer Care
We have been supporting cancer awareness initiatives for over 15 years. We actively look for ways to assist in the treatment of cancer patients. We conduct regular screening camps and cancer awareness sessions for patients and their families and offer financial assistance to underprivileged patients for chemotherapy, radiation, medication and surgeries. We have set up Palliative Care Units at hospitals and equipped them with advanced equipment. We also support world-class research on the genetic profiling of the disease, in collaboration with the Royal Free Hospital NHS Foundation Trust, University College London, Cambridge University, and National Cancer Institute, UK.
Cardiac Care
We financially support underprivileged cardiac patients with medication and arrange for their surgeries in collaboration with Jupiter Hospital, Pune, and undertake even more challenging paediatric cardiology cases in collaboration with Healing Little Hearts. We have been instrumental in performing more than 845 paediatric heart surgeries between 2014 and 2023.
Health Personnel Training
We realise that continuous training of medical professionals is imperative to be able to provide better healthcare. We regularly organise knowledge-sharing conferences and skilling sessions for doctors and nurses. We also train ASHA and ANM nurses who work with rural women folk with crucial healthcare skills such as prenatal and postnatal pregnancy, identification of high-risk pregnancies, Golden Hour training, vasectomy and breast self-examination.
Vaccinations
We help accelerate India's vaccination drives to build immunity, battle diseases, save lives, and create a healthier future for the nation. We have inoculated 2,000 children with the MMR vaccine to keep measles, mumps and rubella at bay since 2016, and around 50 girls were given the cervical cancer vaccine in 2019. We also facilitated and supported more than 30,000 covid vaccinations across Maharashtra and Gujarat in 2020-2021.
Research
We recognise that medical research plays a crucial role in providing valuable insights into diseases and driving innovation in the treatment of cancer and other rare conditions. In 2021, we partnered with Royal Free Hospital, University College London, and Royal Free Charity, to collect and analyse 1,000 genome samples, and increase the representation of women of Southeast Asian ancestry in international research. We have also been supporting a post-pandemic socio-psychological study by SNDT University on geriatric women across rural Maharashtra since 2021.
Vision Care
We have been consistently tackling the issue of deteriorating eyesight among vulnerable communities by organising medical assessment camps for people across age groups and providing advanced ophthalmic equipment to hospitals. With the medical expertise at Bharati Hospital, HV Desai Eye Hospital in Pune and Nav Bharat Jagriti Kendra at Hazaribagh, Jharkhand, we have facilitated 8,000+ cataract surgeries for children and senior citizens from economically backward sections between 2014 and 2023. We also facilitate a monthly open ophthalmic clinic at Dehu OPD, Pune.
Mental Health
We pay equal attention to mental health, the signs of which are often invisible to many. To understand and gain expertise on the subject, we collaborated with Concern for Mental Health (CFMH), UK in 2014. Their team of experts has since been training psychologists, psychiatrists, primary healthcare workers and others in the mental health field using WHO's Mental Health Gap Action Programme (mhGAP) guidelines.
To enable the identification of children with special needs at an early age, we teamed up with Sassoon General Hospital in February 2019 to design a programme for 230 primary teachers of Zilla Parishad Schools, special educators, medical officers and social workers in Satara District, and the CFMH team offered them an in-depth three-day training session. We also screened 250 children for mental health issues during this time.
Mother & Child Care
To enable better health and nutrition among women and children, we collaborate with like-minded organisations and conduct awareness sessions to strengthen nutrition in communities and training sessions for rural women and ASHA nurses. We address wellness issues in pregnant women, new mothers and infants by providing home-based primary healthcare in rural areas while also regularly monitoring the nutritional intake of mothers and children. Our collaborators for these projects include SEARCH, Ladies Circle India and Saathi.
To address malnutrition among rural communities, we distributed an innovative food processor that extracts soy milk and okara (rawa) to provide the nutritional needs of women, children and the elderly.
Diabetic Care
A large population across age groups suffers from diabetes. We've been supporting adults and children with diabetes since 2014 at Pune-based government hospitals such as Sassoon General Hospital and KEM Hospital. The latter runs a support group for Type 1 diabetic patients called 'Club 1' that comprises the staff members of the KEM Diabetic Unit. It has been designed to maximise patient engagement and empowerment with inter-patient interactions and consultations with healthcare providers.
In 2021, we also adopted juveniles and adults with Type 1 Diabetes in Vadodara, Gujarat, and Jalgaon, Maharashtra, who are supported with monthly insulin cartridges and blood-sugar tests.
Thalassemia Care
We organise awareness sessions on Thalassemia and blood tests for the youth to detect the condition. We also offer them counselling sessions and prescribe medication for anaemia, sickle cell and iron deficiency issues.
We support young thalassemia patients with monthly blood transfusions, filters and medication, in collaboration with the Thalassemia Society Pune Chapter, Bharati Hospital, Indian Red Cross and The Wishing Factory. We have enabled thalassemia patients to learn the skill of making rakhis and sourced these for our Raksha Bandhan initiative where we tie rakhis to the veterans, police force, coastguard and frontline workers.
Medical Assessment Camps
To promote wellness among vulnerable communities, we organise medical assessment camps that include general check-ups ranging from dental and ophthalmic examinations to orthopaedic and psychiatric evaluations for the elderly. We also conduct bi-yearly medical assessment camps at government schools in the Pune, Satara and Ratnagiri districts of Maharashtra. To provide the best available medical care, we collaborate with hospitals and on-ground partners across villages in Maharashtra, Gujarat, Karnataka, Andhra Pradesh, Tamil Nadu, Assam and Jharkhand to organise ailment-specific screenings such as diabetes, thalassemia, clubfoot and cancer.
Clubfoot
Children with the clubfoot defect have difficulty walking due to their twisted or out-of-shape limbs, which adversely impacts their quality of life. The treatment of this condition includes physiotherapy and surgery. We supported a clubfoot programme where we provide braces and surgeries to 80+ children with clubfoot from underprivileged families in Gujarat, Andhra Pradesh, Karnataka and Tamil Nadu.
Cochlear Support
To support the hearing impaired, we have been donating hearing aids and performing cochlear implant surgeries at hospitals across Mumbai, Pune and Nasik since 2010. We have conducted 318 free cochlear implant surgeries for the underprivileged until April 2023.